Rent a Boat in Arrábida
Full day / 8 hours
Self-Drive Boat Rental in Arrábida
Our boat experience is the best possible way to explore Arrábida and its surroundings. Enjoy a full day of peaceful sailing along the most beautiful and calm portuguese coastlines, in Arrábida Marine Reserve, just 30 minutes from Lisbon. Admire the amazing limestone cliffs and explore the hidden secluded beaches with your family or friends on this private boat rental.
Discover this stunning region at your own pace and at your command as you'll be the Captain of this boat experience. During the circuit you may want to drop anchor in one of the many beautiful sights, so you'll have the opportunity to jump in the water for a refreshing dip in the crystal clear waters, or just swim to any given beach to grab lunch somewhere in the shore.
This private and entirely customizable boat adventure will allow you to explore Arrábida – commonly described as a Portuguese Paradise. You´ll be able to admire the Natural Park and its amazing surroundings, you'll find some of the most beautiful sandy beaches and rare animal species (you might even be able to spot a friendly boar chilling at the beach), it's simply spectacular.
This full day aboard our private boat will give you inspiration and positive energy, it's a mesmerizing exclusive experience that will grant you access to some secret spots in Arrábida and its surroundings, and to landscapes that are impossible (others extremely difficult) to reach by land.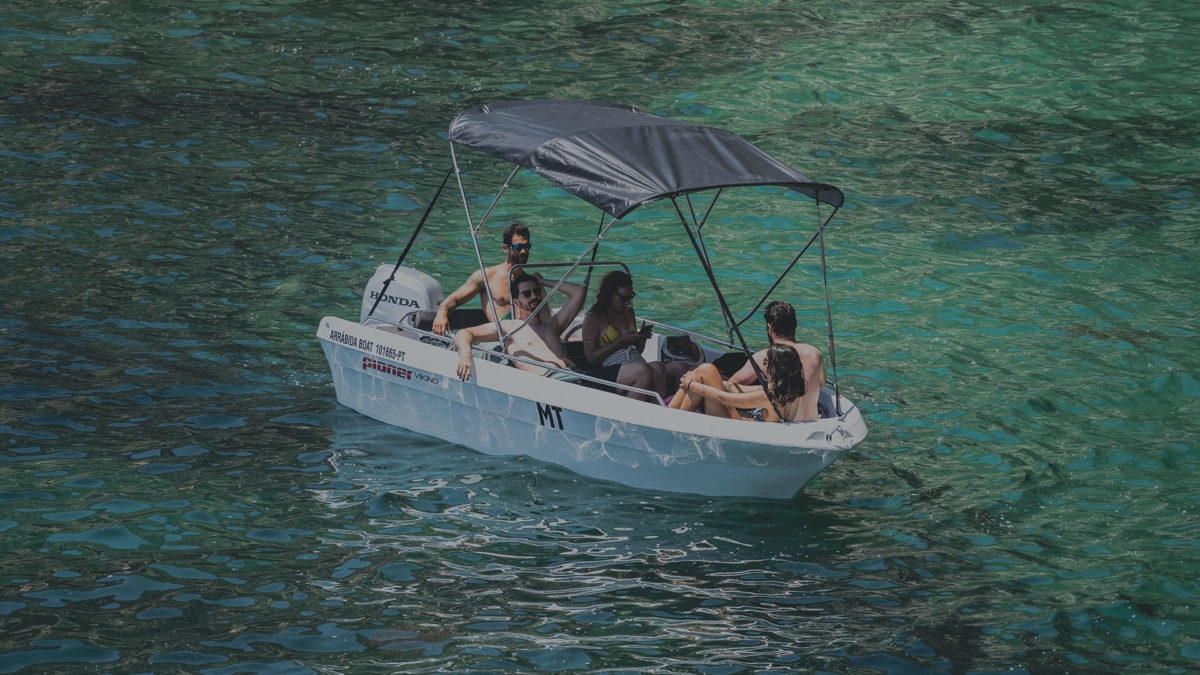 Important Information
Valid Nautical Driver's license is mandatory (failure to provide one will result in the cancellation of the rental without refunding/rescheduling).
Recommendations: Swimsuits, beach towels and sunscreen are highly recommended. During your boat trip you'll be able to go for a swim, dock on deserted beaches to sunbathe, relax and even explore a little by land. You're welcome to bring your own food and drinks as it's probable that you'll feel peckish and thirsty after all that diving and swiming. On the full day option, your skipper will point you to some delicious spots where you can stop for a quick lunch/snacks. There is a maximum cap of 8 hours for the tour, but you are welcome to return to base once you've had your fill of sailing and relaxing (the price remains the same either way). We also recommend bringing a warm coat or sweatshirt, just in case!
Pick Up & Drop Off:
Full Day (7h option): PICK UP at » 8:30am AND DROP OFF at » 6:30pm in front of Hard Rock Café Lisbon.
Half Day (3h option): PICK UP at » 8:30am or 1:30pm AND DROP OFF at » 1:30pm or 6:30pm in front of Hard Rock Café Lisbon.
(Please be on time, as latecomers will not be admitted, rescheduled or refunded).
Physical Requirements: This experience includes an 8h boat trip with your own private skipper. During this time you will be the one who chooses what to do and where to go! Your skipper will be happy to give you insider tips on where to have lunch or go for snacks if you prefer to remain "swim-ready" at all times. We do recommend a few stops to go for a swim, walk around in secluded beaches and soak in some sun in the sandy shores so a certain level of physical capability is required in order to get in and out of the boat, swim to the shore and so on.
Cancellations/Rescheduling: Tours can be canceled or rescheduled free of charge up to 72h before the scheduled departure, from then onwards all orders are final and non-refundable.